Glacier Lilies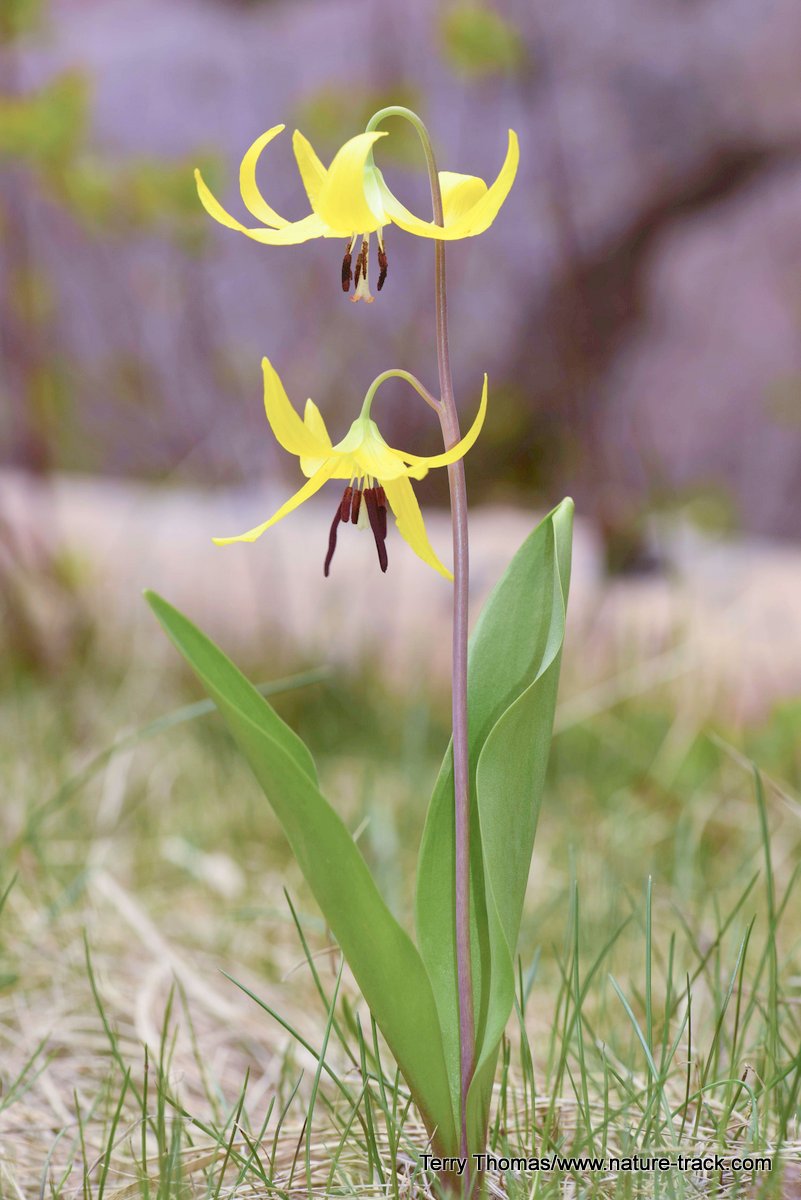 A glacier lily blooms in Island Park. Note the rusty red anthers on this particular plant.
---
It may be all spring-like down in the valley with crocuses, daffodils and tulips in full bloom, but up here on the hill, we are still breaking free from the grip of winter. As a friend recently posted, we'll know it is spring in Island Park when the glacier lilies bloom. In spring, 1806, Meriwether Lewis thought the same thing as  he also mentioned the glacier lily a number of times in his journal, possibly believing he could use its blooming to time the arrival of the spring season, much as he did in Virginia with the Eastern trout-lily.
Both observations are correct in that the glacier lily is the first flower to bloom in subalpine and alpine country, seldom waiting for the snow to fully melt before gracing the landscape with its lemon-yellow flowers.
The glacier lily, Erythronium grandiflorum, is known by many other common names. You may have learned it as: dog-tooth violet (although it isn't a violet), avalanche lily, snow lily, yellow fawn lily, adder's tongue or trout lily. Sprouting from a small bulb-like stem called a corm, buried several inches below the surface, it quickly sports two long leaves shaped like lance points: wide in the middle and more pointed on both ends. One to three yellow flowers are borne on the end of a single long (up to 12 inches) stalk.
The flowers nod over and the three sepals and three petals, as with many other members of the lily family, are identical and collectively called tepals. The petal-like tepals reflex or curl upward, revealing six white stamens with long anthers that are either rusty red, yellow or white. The flower eventually ripens into an upright tri-chambered pod. Each chamber will contain up to ten round brown seeds, each around 3/32nds of an inch in diameter.
This is truly a western species. It has been noted in all of the Western states except Nevada and Arizona. It is also found in Alberta and British Columbia, but apparently does not reach into Alaska. According to the USDA Forest Service, "Yellow avalanche-lily grows on sites that have moist soil and open light in early spring". Those seem to be the main requirements as it will grow on flats to steep slopes, gravelly, sandy or loamy soils and even in shallow soils as long as the first two requirements are met.
Just two weeks ago, we watched while one of the early rising Yellowstone grizzlies pawed through the mud of a moist spring area near Indian Creek in the Park. He was evidently feasting on some food found just below the surface. It is very likely that he was targeting glacier lily bulbs as these are a spring favorite of grizzly and black bears in the West.
The same was true for Native Americans. They harvested and cooked the bulbs or dried them for later use. Dried bulbs were a favorite trade item among tribes. In addition, it is reported that the flowers and leaves are edible as well although I haven't tried them.
As the first flowers to emerge in the spring, they are the primary food source for several species of bumblebees. There is concern that climate change may create a scenario where the timing for the bumblebees and the glacier lilies becomes asynchronous, to the detriment of both.
I can hardly wait to see my first glacier lily. I think I will sit down with it and using all its many names, tell it just how grateful I am for the hope and promise that are in its yellow flowers.
---
Help Idaho Wildlife
When we traveled across the state in October 2017, most of the vehicles we saw using the wildlife management areas did not have wildlife plates. Buying wildlife plates is a great way for non-hunters and hunters alike to support wildlife-based recreation like birding.
C'mon folks, let's help Idaho's wildlife by proudly buying and displaying a wildlife license plate on each of our vehicles! 
See below for information on Idaho plates. Most states have wildlife plates so if you live outside Idaho, check with your state's wildlife department or vehicle licensing division for availability of state wildlife plates where you live. 
And tell them that you heard about it from Nature-track.com!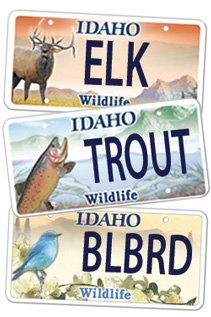 Wildlife License Plates
Idaho Wildlife license plates provide essential funding that benefits the great diversity of native plants and wildlife that are not hunted, fished or trapped—over 10,000 species or 98% of Idaho's species diversity. Game species that share the same habitats (such as elk, deer, antelope, sage-grouse, salmon, trout) also benefit from these specialty plates.
No state tax dollars are provided for wildlife diversity, conservation education and recreation programs. Neither are any revenues from the sale of hunting or fishing licenses spent on nongame species. Instead, these species depend on direct donations, federal grants, fundraising initiatives—and the Idaho Wildlife license plates.
Both my vehicles have Bluebird Plates. I prefer the bluebird because the nongame program gets 70 percent of the money from bluebird plates, but only 60 percent of the money from elk and trout plates - 10 percent of the money from elk plates supports wildlife disease monitoring and testing programs (to benefit the livestock industry) and 10 percent from cutthroat plates supports non-motorized boat access.
Incidentally, in 2014, the Idaho Legislature denied the Department of Fish and Game the ability to add new plates or even to change the name of the elk and cutthroat plates (very specific) to wildlife and fish plates, a move that would have allowed for changing images occasionally and generating more revenue. It would seem that they believe that we Idahoans don't want a well funded wildlife program. Go figure.