Smithsonian National Zoo is worth a Visit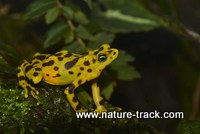 Extinct in the wild, there is no place on earth other than a zoo where you can still photograph the Panamanian Golden Frog. Learn how to photograph in zoos at: http://www.nature-track.com/Zoo_Photography.html
There is so much to see and do in Washington D.C., the Smithsonian National Zoo may be a low priority for many visitors.
Last week, however, it was near the top of our list. After a rainy weekend that kept us hunting for museums, tours of the U.S. Capital and the White House and other indoor activities, we were ready for a clear-sky day at the zoo.
Although most of the buildings didn't open until 10 a.m., we arrived early hoping animals would be more active. We found the cheetah, small-clawed otters, fishing cats and giant pandas all getting their morning exercise and providing terrific photo opportunities.
When the buildings opened, it got better.
The zoo is not the largest, or even the best zoo I have ever been to, especially in terms of the number of species. Of the zoos I have visited, Omaha's Henry Doorly Zoo and Aquarium gets top honors.
Of course, there were the usual charismatic critters such as lions, tigers, elephants and orangutans. Notably missing, though, were animals such as giraffes, almost all ungulates (deer/cattle-like species), penguins, grizzly bears and most other native wildlife.
That might have been disappointing, but the reptile house, invertebrate display and Amazon exhibit made up for it. I photographed almost 50 species of reptiles, many of which I had never actually seen before. Most of the species within the invertebrate house were new to me, especially the corals and associated life forms made famous by the animated movie, "Finding Nemo."
Amazonia, a representation of the Amazon River and tropical rainforest, was just amazing. The huge aquarium was filled with a small sample of the fabulous variety of fishes that exist in the Amazon River. Smaller aquariums housed the more diminutive species, allowing a close-up look. In the rainforest, several species of primates as well as nearly a dozen species of birds moved about freely.
As we began wandering up toward the gate near the end of the day, a young man stopped us. "Is there anything worth seeing down there?" he questioned, and indicated that he had been less than impressed with the zoo so far. My wife extolled the virtues of the remaining exhibits and encouraged him to continue.
I am sure that not everyone appreciates a zoo. Looking at caged animals in simulated habitats does have its limitations. I have heard comments such as, if you have seen one zoo, you have seen them all. I beg to differ.
What any zoo really offers is a tiny and unique glimpse at the miracle of nature - its diversity, complexity and adaptability. Each showcases only a small percentage of the myriad of ecosystems and species that inhabit this planet. A zoological park might focus on native species like the Pocatello Zoo, or Africa, like San Diego's Wild Animal Park, specific habitats like the National Zoo's Amazonia or endangered species. Each unique focus provides me with a new opportunity to gain insights into just how complex our world really is. Any zoo is a place where I can see and appreciate many species I would otherwise never see, including some that are now extinct in the wild, but no two zoos are alike.
So, to answer the young man's question, Is there anything worth seeing at a zoo? Yes, everything.