Has Earth Day Made a Difference?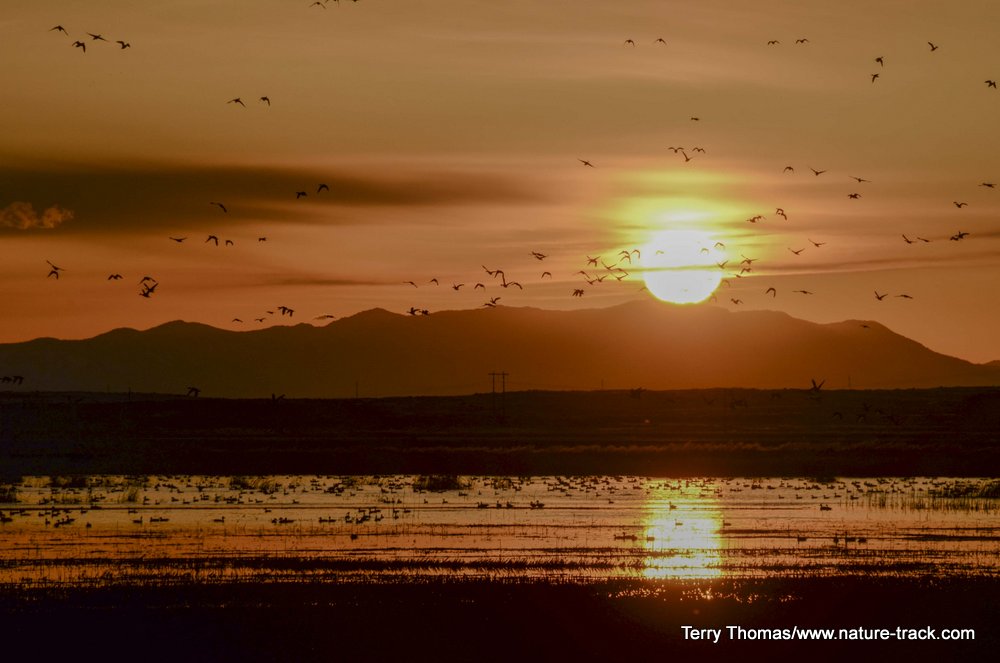 EarthDay.org is one of many organizations working hard to ensure that life on this planet is just as great 10, 50, 100 and 500 years from now as it is today.
---
I was in 9th grade when the first Earth Day happened. It wasn't called Earth Day by its organizer, former Wisconsin governor and senator, Gaylord Nelson. He had seen the effectiveness of the organized protests against the war in Vietnam and wanted to use the same technique to raise environmental awareness. On April 22nd, 1970, 20 million Americans, 10 percent of the population at the time, joined him in what he termed, An Environmental Teach-in. It was the news media that dubbed the event Earth Day and the name stuck.
The rally had an immediate impact and was at least partially responsible for a series of federal laws such as the Clear Air and Clean Water acts and the Endangered Species Act as well as the establishment of the Environmental Protection Agency. That first Earth Day also spawned the current conservation movement, not just here, but across the globe. Earth Day is celebrated by one billion people in 193 countries and is considered the world's largest annual civic event.
Since that first Earth Day 53 years ago, it is no longer just a day or even a week set aside for environmental sensitivity. EarthDay.org is a physical entity with a board of directors and staff all directed toward fulfilling their mission: "EARTHDAY.ORG's mission is to diversify, educate and activate the environmental movement worldwide." In other words, "mobilizing people to protect the Earth for future generations."  Here is a sampling of jobs currently available on their website: Global Education Campaign Director, Associate Director, Education Campaign, Vice President, Partnerships, Institutional Fundraising Manager, Development Coordinator, Business Partnerships Manager and Summer 2023 Internship.
I quickly noticed that there were no positions for biologists or ecologists. That isn't the role of EarthDay.org. I was curious about just exactly what they do so I perused their website. The first project I encountered is called the Canopy Project. Since 2010, EarthDay.org has helped people plant 100s of millions of trees across the globe (their number not mine). That seems like a pretty big deal, reminding me of the saying that, "a wise man plants trees under which he will never sit."
Since 2020, EarthDay.org has targeted increasing conservation knowledge. Through their Climate and Environmental Literacy Campaign, a worldwide movement, they are ensuring that, "students across the world benefit from high-quality education to develop into informed and engaged environmental stewards."
Another campaign that hit close to home for me is the End Plastic Pollution. In Island Park, we can no longer recycle plastics. I try to find as many ways as possible to upcycle plastic bottles, but there are only so many ways to do so. I checked into this a little more deeply (see plasticpollutioncoalition.org) and found that even when plastics are gathered for recycling, much of it never is recycled or downcycled (made into a different product). EarthDay.org is not working on the how to recycle end, but rather on educating people on the severe impacts of plastics and how to reduce or eliminate their use.
In all of the campaigns that I reviewed, two common themes emerge. One is education, helping people to understand the benefits or impacts of certain behaviors on the environment. The other is a grassroots approach. While they do target policymakers, there is great emphasis on getting individuals involved and making a difference one person at a time.
EarthDay.org seems to be an organization that is really moving the needle on changing how humans relate to conservation. For over 50 years, they have been a constant reminder that the real purpose of Earth Day is to get each of us to stop our busy lives long enough to consider just how we want our world to really be and to commit to taking personal action to help it become that way. It is a reminder of the inspirational thought by author, Edward Everett Hale; "I am only one, but still I am one. I cannot do everything, but still I can do something; and because I cannot do everything, I will not refuse to do something that I can do."
---
Help Idaho Wildlife
When we traveled across the state in October 2017, most of the vehicles we saw using the wildlife management areas did not have wildlife plates. Buying wildlife plates is a great way for non-hunters and hunters alike to support wildlife-based recreation like birding.
C'mon folks, let's help Idaho's wildlife by proudly buying and displaying a wildlife license plate on each of our vehicles! 
See below for information on Idaho plates. Most states have wildlife plates so if you live outside Idaho, check with your state's wildlife department or vehicle licensing division for availability of state wildlife plates where you live. 
And tell them that you heard about it from Nature-track.com!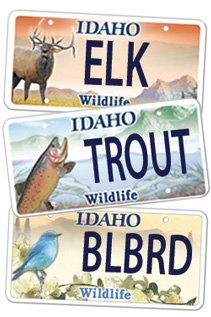 Wildlife License Plates
Idaho Wildlife license plates provide essential funding that benefits the great diversity of native plants and wildlife that are not hunted, fished or trapped—over 10,000 species or 98% of Idaho's species diversity. Game species that share the same habitats (such as elk, deer, antelope, sage-grouse, salmon, trout) also benefit from these specialty plates.
No state tax dollars are provided for wildlife diversity, conservation education and recreation programs. Neither are any revenues from the sale of hunting or fishing licenses spent on nongame species. Instead, these species depend on direct donations, federal grants, fundraising initiatives—and the Idaho Wildlife license plates.
Both my vehicles have Bluebird Plates. I prefer the bluebird because the nongame program gets 70 percent of the money from bluebird plates, but only 60 percent of the money from elk and trout plates - 10 percent of the money from elk plates supports wildlife disease monitoring and testing programs (to benefit the livestock industry) and 10 percent from cutthroat plates supports non-motorized boat access.
Incidentally, in 2014, the Idaho Legislature denied the Department of Fish and Game the ability to add new plates or even to change the name of the elk and cutthroat plates (very specific) to wildlife and fish plates, a move that would have allowed for changing images occasionally and generating more revenue. It would seem that they believe that we Idahoans don't want a well funded wildlife program. Go figure.